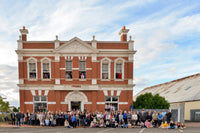 Our Story
Life takes you on unexpected journeys, and discovering the old bank building in Dimboola was serendipitous. We had the urge to leave Melbourne's restaurant scene after twenty years and open an Imaginarium where creativity inspires and thrives.
Since 2019 the Dimboola Imaginarium has evolved to contribute to the town's newfound verve. We are more than just a shop. The Dimboola Imaginarium is an entirely immersive experience.
You can glimpse the past in the vault, have cheese and wine under the giraffe or sleep where past bank managers resided. Grand architecture plays a role in the storytelling of Dimboola.
Our online shop is evolving and reflects only a snapshot of our offerings. Because we source unique items, not everything can be listed.
We respectfully acknowledge the Traditional Owners of the Land upon which we are located, the people of the Wotjobaluk, Jaadwa, Jadawadjali, Jupagulk and Wergaia. We pay our respect to Elders past, present and emerging.
Truly exceeds expectations. What can I say? It is like being transported into a wonderland. As someone in my late 20s, I was blown away - I can't imagine how I'd feel if I was a kid. For the rugrats, you have the toys (including a Harry Potter room - so thoughtfully done!). For the adults, a great range of high end books and homewares for a reasonable price. There's also a historical room in the vault and the accommodation rooms are just as imaginative and considered as every other nook and cranny in this beautiful establishment.

The couple who run the place are so inviting and warm. I can't wait to pop my head in again next time I'm in Dimboola - truly a highlight.

tuffnaygubbuns - Tripadvisor Apr 2021
Rose Apothecary meets every fun place you ever read about as a child. This place is AMAZEBALLS. Think Gorgeous and classy gift shop yet with ALL the quirky and fun trimmings. I did not want to leave. We got the grand tour of the old bank safe filled with history, charm and fun. We saw doll head planters, The Harry Potter cupboard and a Turkey Carnival. The biggest non animated Giraffe in town and the absolute finest display of wrestling men EVER to come to Dimboola. The book display is divine and interesting. The light fixtures all tell a story. My favourite (it was hard to choose) was the Skipping Girl Vinegar Heat Pressed Aluminium Photograph. I may be a little obsessed!! The owners are friendly and warm and have breathed new life into this country town. I am so glad that we decided not to go toHorsham for ladies day lunch this year and ended up in this glorious establishment. I look forward to returning next Easter to see the updated renovations. Thank you to you both for making it such a fun and personal experience.

Emma R - Tripadvisor Apr 2021
I literally said 'wow' out loud a few minutes after going into this fabulous store. I came across the giraffe and just looked up, and up, and up. It almost touches the ceiling. Our son lives in Dimboola and due to covid we couldn't visit from NSW since late 2019, the same time this wonderful store opened. So when I walked in I thought this shop wouldn't be out of place in a trendy part of any capital city. Everywhere you look is a feast for the eyes with quality goods to tempt you. The owners are friendly and the store is an asset to beautiful Dimboola. Do yourself a favour and visit.

Abbykat - Tripadvisor Apr 2021